Description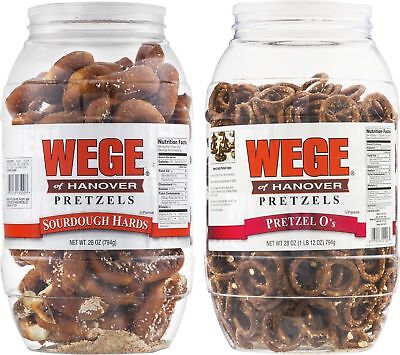 Wege Of Hanover Sourdough Hards & Pretzel O's Variety 2- Pack 28 oz. Barrels
---
Product Overview
One large 28 oz. Barrel of Wege's Sourdough Hards. The Wege Family an old German recipe for making a large Sourdough Hard Pretzel, the one for which Wege is now famous.One large 28 oz. barrel of Wege's round circle Pretzel O's. These round pretzel shapes are perfect for snacking or a delicious chocolate kiss recipe (recipe on label). Wege Pretzel Company located in Hanover, PA, is one of the oldest and respected names in the pretzel baking industry.
Features
Wege Sourdough Pretzel Barrel & Pretzel O's Barrel Variety Pack
Two Famous Pretzel Barrels in One Order. Fresh from Wege Pretzel Co. in Hanover, PA
GUARANTEED FRESH - Our pretzels are guaranteed fresh until the printed day. Shipped factory fresh each day!
NO PRESERVATIVES, NO TRANS FAT - Wege of Hanover has removed all preservatives and trans fats from our Pretzels
Payment & Security
Your payment information is processed securely. We do not store credit card details nor have access to your credit card information.