Description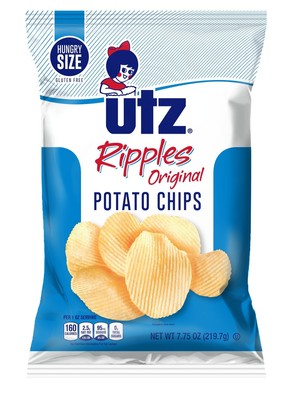 Utz Quality Foods Original Potato Chips 7.75 Ounce Hungry Size Bag (Original ...
---
Product Overview
Flavor: Original Ripples
Size: 4 Bags
Flavor:Original Ripples  |  Size:4 Bags Pick up a bag of Utz potato chips and you've got a fresh-tasting, crisp and crunchy potato chip snack! We use the same recipe as that first batch of potato chips made by our founders, Bill and Salie Utz. Utz is still family owned and operated and we take pride in providing you with snacks that we're proud to share with our own family. So open a fresh bag of Utz today, and savor the same high-quality flavor and crunch you've enjoyed for years!
Features
You Will Receive UTZ Original Potato Chips in a 7.5 oz. Hungry Size Bag
Available in orders of 3, 4, 5 or 6 bags.
Utz's is made with the same care and pride that Salle and Bill had back in 1921.
ALL NATURAL - Our Potato Chips are made from the finest potatoes, steam-fried and cooked to perfection!
Gluten Free and 0 Trans Fat
Details
Shipping Information: View shipping rates and policies
UPC: 618554979941
---
Payment & Security
Your payment information is processed securely. We do not store credit card details nor have access to your credit card information.