Description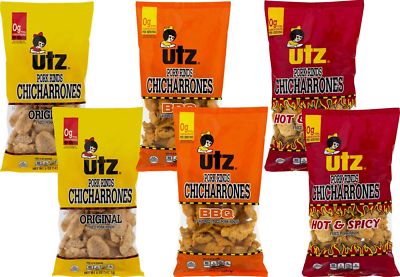 Utz Original, BBQ and Hot & Spicy Fried Pork Rinds (Chicharrones) 5 oz Bags

---
Product Overview
Flavor: Variety
Size: 6- 5 oz. Bags
Flavor:Variety  |  Size:6- 5 oz. Bags Today, Utz is the largest independent, privately held snack brand in United States, producing over 3.3 million pounds of snacks per week. We are proud to continue producing high-quality, delicious snacks for you and your family to enjoy today and for generations to come.
Features
Famous Utz Quality Foods Fried Pork Rinds (Chicharrones) Available in 5 oz. Bags
Three Delicious Flavors- Original, BBQ and Hot & Spicy in a Variety Six Pack
When its time for piggin out zero carb style, weve got the light, tangy, crispy pork snacks you need to turn snack-time into a true occasion!
0g of Total Carbs, 0g of Trans Fat 0g of Sugar
---
Payment & Security
Your payment information is processed securely. We do not store credit card details nor have access to your credit card information.