Description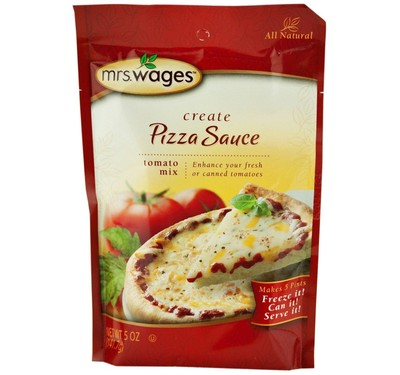 Mrs. Wages Pizza Sauce Tomato Seasoning Mix, 5 Oz. Pouch (Pack of 4)
---
Product Overview
Size:Pack of 4 Pouches Just use this easy mix with fresh tomatoes, canned tomatoes or tomato paste to give your PIZZA lots of PIZZAZZ. Turning fresh, ripe tomatoes from your garden into pizza sauce now will surely look (and taste!) like an extra special treat when it's pizza supper time at your house this winter. Mrs. Wages would gladly assist with "her" popular, all natural Pizza Sauce that will make that endeavor easier than ever. Each 5 Oz. Pouch makes 5 Pints of Pizza Sauce.
Features
Use To Make Delicious Home Canned Pizza Sauce.
All Natural Ingredients!
One 5 Oz. Pouch Makes 5 Pints.
Makes Canning Pizza Sauce Quick and Easy!
Details
Item Weight: 1.25 pounds
Shipping Weight: 1.2 pounds
UPC: 766204664133
---
Payment & Security
Your payment information is processed securely. We do not store credit card details nor have access to your credit card information.