Description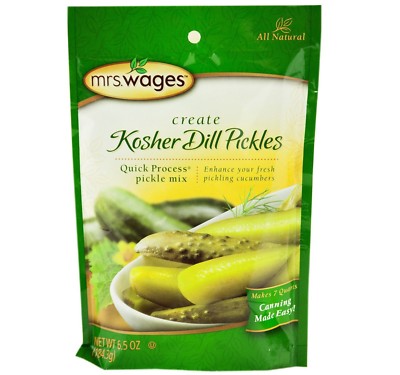 Mrs. Wages Kosher Dill Pickle Canning Seasoning Mix, 6.5 Oz. Pouch (Pack of 4)
---
Product Overview
Size:Pack of 4 Pouches Mrs Wages mixes are pretty much the ultimate in summertime cucumbers canning made easy - local customers to our market have scooped them up each summer for many years! The only ingredients required besides this Kosher Dill Pickle Seasoning Mix is fresh cucumbers, vinegar and water. Use this mix for some seriously simple preparation of and some seriously delicious eating of "everybody's favorite" old time kosher dill pickles. The finished product will be ready to eat 24 hours after preparation time is completed. Each 6.5 Oz. Pouch seasons 7 Quarts of Pickles.
Features
Use To Make Delicious Home-Canned Pickles.
All Natural Ingredients!
One 6.5 Oz. Pouch Makes 7 Quarts.
Makes Canning Pickles Quick and Easy!
Our Most Popular Pickle Mix!
Details
Shipping Weight: 1.7 pounds
UPC: 766204664027
---
Payment & Security
Your payment information is processed securely. We do not store credit card details nor have access to your credit card information.