Description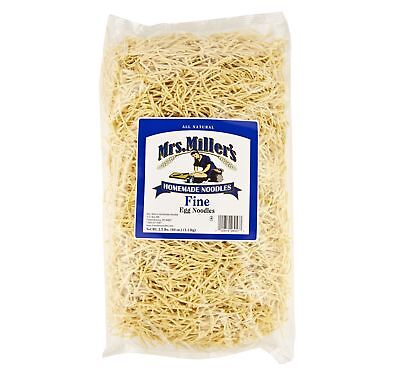 Mrs. Miller's Old Fashioned Fine Noodles 2.5 lb. Bag (2 Bags)
---
Product Overview
Size:2 Bags Mrs. Miller's Fine Noodles are perfect for casserole dishes. Make your favorite casserole recipe with this finely cut noodle for a delicious dish that the whole family will love!
Features
Old Fashioned Homemade Fine Noodles in a 2.5 Pound Bag
Available in orders of 1 or 2 bags.
Since 1973 Mrs. Miller's Pasta have been producing the finest egg noodles available in a variety of sizes and flavors.
Quality comes naturally when using the traditional homemade process handed down from Mrs. Miller's Amish heritage.
Simple and quality ingredients
Details
Shipping Information: View shipping rates and policies
UPC: 618554971341
---
Payment & Security
Your payment information is processed securely. We do not store credit card details nor have access to your credit card information.