Description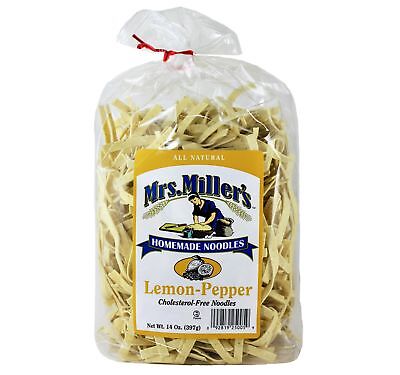 Mrs. Miller's Homemade Lemon Pepper, Pesto, Vegetable Mix Cholesterol-Free No...
---
Product Overview
1.These Lemon-Pepper noodles have a refreshing lemon flavor with a little bite of pepper. These noodles are especially delicious when paired with a light sauce, fresh vegetables and grilled chicken. 2.Toss these Pesto noodles in butter and you have a simple and delicious side dish to accompany any meal! 3. Use this colorful, cholesterol free Vegetable Mix in main pasta dishes, casserole recipes or in cold pasta salads for a tasty, vibrant and extra healthy dish.
Features
Mrs. Miller's Homemade Cholesterol-Free Noodles Variety Pack
One 14 oz. Bag Each of Lemon Pepper, Pesto and Vegetable Mix
Since 1973 Mrs. Miller's Pasta have been producing the finest egg noodles available in a variety of sizes and flavors.
Quality comes naturally when using the traditional homemade process handed down from Mrs. Miller's Amish heritage.
Simple and quality ingredients
Details
Shipping Information: View shipping rates and policies
UPC: 618554972782
---
Payment & Security
Your payment information is processed securely. We do not store credit card details nor have access to your credit card information.