Description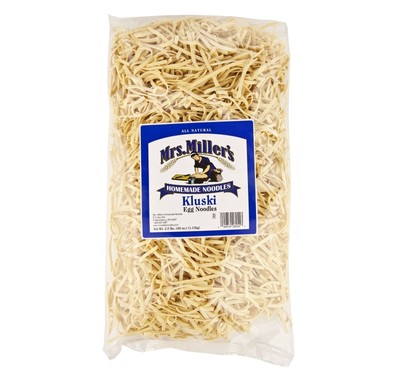 Mrs. Miller's Homestyle Kluski Noodles 2.5 lb. Bag (1 Bag)
---
Product Overview
Size:1 Bag Homestyle Kluski Noodles are made the old fashioned way by kneading, rolling, cutting and drying. These noodles are extra thick and cook to perfection every time!
Features
Homestyle Kluski Noodles in a 2.5 Pound Bag
Available in orders of 1 or 2 bags.
Since 1973 Mrs. Miller's Pasta have been producing the finest egg noodles available in a variety of sizes and flavors.
Quality comes naturally when using the traditional homemade process handed down from Mrs. Miller's Amish heritage.
Simple and quality ingredients
Details
Shipping Information: View shipping rates and policies
UPC: 618554971365
---
Payment & Security
Your payment information is processed securely. We do not store credit card details nor have access to your credit card information.