Description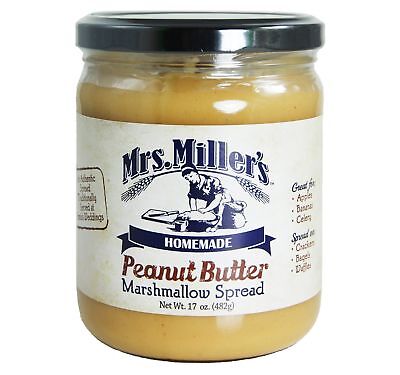 Mrs. Miller's Homemade Peanut Butter Marshmallow Spread 17 oz. Jar (2 Jars)
---
Product Overview
Size:2 Jars Peanut Butter Marshmallow Spread is a unique Old Fashioned Amish treat! This spread is made from peanut butter, marshmallow cream and special syrup and is especially tasty on your favorite bread, graham crackers or drizzled on a scoop of ice cream.
Features
A Delicious and Unique Blend of Peanut Butter and Marshmallow
Great with Bagels, Apples, Bananas, Waffles and Celery
Made and Jarred in Millersburg, OH- The Heart of Ohio Amish Country
Ships In A Corrugated Box To Help Ensure Freshness, Quality & Safe Delivery
Details
Shipping Information: View shipping rates and policies
UPC: 688943361794
---
Payment & Security
Your payment information is processed securely. We do not store credit card details nor have access to your credit card information.