Description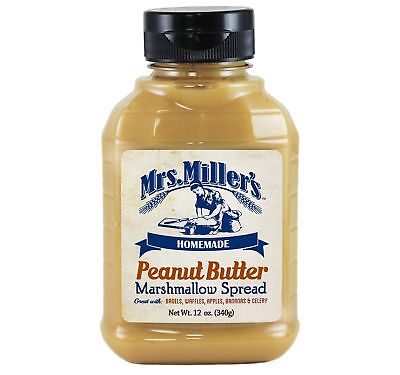 Mrs. Miller's Homemade Peanut Butter Marshmallow Spread 12 oz. Jar (2 Bottles)
---
Product Overview
Size:2 Bottles Mrs. Miller's Peanut Butter Marshmallow Spread gets a new name and an easy to use "no mess" squeeze bottle without compromising the great taste and quality you've come to expect and love from Mrs. Miller's. You can spread it on crackers, cookies, toast and bagels or for a different approach use as a dip for fresh fruits or celery.
Features
A Delicious and Unique Blend of Peanut Butter and Marshmallow
Great with Bagels, Apples, Bananas, Waffles and Celery
Made and Jarred in Millersburg, OH- The Heart of Ohio Amish Country
Ships In A Corrugated Box To Help Ensure Freshness, Quality & Safe Delivery
Details
Shipping Information: View shipping rates and policies
UPC: 688943361763
---
Payment & Security
Your payment information is processed securely. We do not store credit card details nor have access to your credit card information.