Description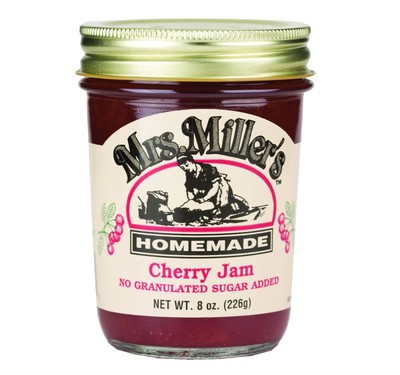 Mrs. Miller's Homemade No Sugar Cherry Jam 8 oz.
---
Product Overview
No Sugar Cherry Jam is packed full of sweet red cherries. This cherry jam tastes great with your breakfast, but also makes a delicious dessert topping.
Features
Delightful Jars of Mrs. Millers Amish Made No Sugar Cherry Jam 8 Ounces Each Jar
Enjoy The Sweet, Fruity Goodness Of Mrs. Millers Homemade Jellies and Jams
All Natural, Corn Syrup Free & Still Hand Scooped Out of Kettles
Artisan Amish Home Made Jellies and Jams
Reducing sugar consumption ignites fat burning and can also help deter a variety of health concerns, including obesity, heart disease, and liver damage.
---
Payment & Security
Your payment information is processed securely. We do not store credit card details nor have access to your credit card information.