Description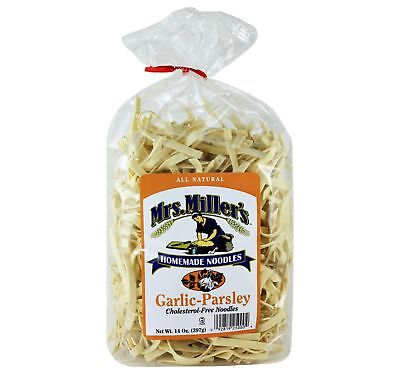 Mrs. Millers Homemade Garlic Parsley Noodles 14 oz. Bag (2 Bags)
---
Product Overview
Size:2 Bags Add robust flavor to your classic pasta dishes with these unique Garlic Parsley Noodles. These noodles taste especially delicious with classic tomato based sauces.
Features
These garlic-parsley noodles make a wonderful and easy side dish.
Quality comes naturally when using the traditional homemade process handed down from Mrs. Miller's Amish heritage.
Since 1973 Mrs. Miller's Pasta have been producing the finest egg noodles available in a variety of sizes and flavors.
Cholesterol-free Noodle
Details
Product Dimensions: 14 x 3 x 11 inches
Shipping Weight: 1.4 pounds
UPC: 688943360766
---
Payment & Security
Your payment information is processed securely. We do not store credit card details nor have access to your credit card information.