Description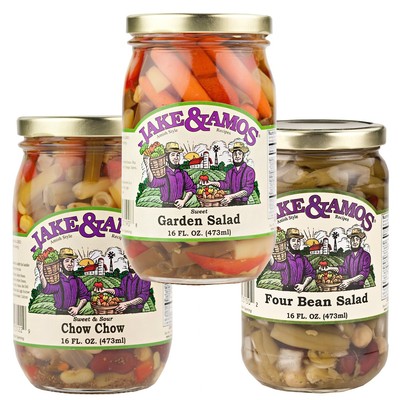 Jake & Amos Pickled Salad Variety Pack 16 oz. Chow Chow, Sweet Garden Salad, ...
---
Product Overview
1) Jake & Amos® Chow Chow is a traditional Lancaster County dish bursting with a variety of crunchy vegetables. Try this healthy Chow Chow chilled or it can be conveniently served straight from the jar. 2)Jake & Amos® Sweet Garden Salad is prepared with vinegar, spices and a hint of sugar for a salad that is seasoned to perfection. This salad combines green beans, wax beans, carrots, peppers and corn to make a crunchy side dish that will be a welcome addition at your next picnic. 3) Jake & Amos® Four Bean Salad is an all natural, colorful, crunchy salad making it a country favorite. These beans are canned in a clear juice that allows them to retain their vibrant colors. Four Bean Salad is a healthy snack or a quick and easy meal in a jar.
Features
Jake & Amos Best Selling Variety of Pickled Garden Salads
You will receive 1-16oz. jar of each of these 3 varieties of Jake & Amos Pickled Garden Salad: Chow Chow, Sweet Garden Salad, 4 Bean Salad
Made and jarred in Lancaster County, PA
Pennsylvania Dutch Food at its best
Details
Shipping Information: View shipping rates and policies
UPC: 688943360841
---
Payment & Security
Your payment information is processed securely. We do not store credit card details nor have access to your credit card information.