Description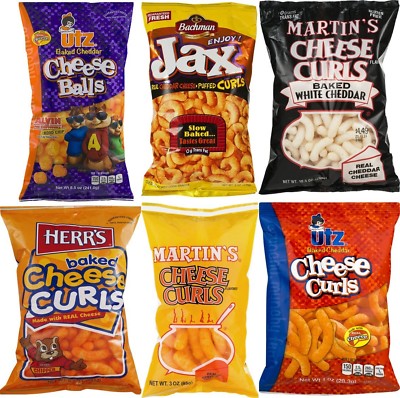 Herr's, Martin's, Utz & Bachman Baked Cheddar Cheese Curls Variety 6-Pack
---
Product Overview
Made from pure corn meal and baked to a puffy perfection, Herr's 8.5 oz. baked cheese curls have crispy goodness blend of savory cheeses. Like all of our other quality products, they're made with only the finest ingredients.Martins family has been making potato chips and snacks for over 50 years. With our dedication to quality and commitment to excellence, we believe that Martin's 6 oz. cheese curls are the very best. Every customer is special and each sale carries our guarantee of quality.Try Utz 8.5 oz. Baked Cheese Curls for a taste of irresistibly cheesy goodness! Made with real cheddar cheese, these crunchy, munchy curls are finger-licking fun you won't want to put down! Their crispy cheesy goodness makes for a cozy feeling with every bite.Bachman Jax 6 oz. Puffed Curls are made with real cheddar cheese and have a unique flavor and texture you are sure to love. Slow baked and indiviually puffed these corn snacks will be hard to resist! Always a customer favorite these are perfect for lunches, the office or sending to someone in need of some serious munchies!It's hard to resist the perfectly poppable, endlessly cheesy, crunchy-munchy goodness known as Utz baked cheddar cheese balls. Made with real cheddar cheese, we dare you to stop at just one! Contains no gluten.We believe that Martin's cheese curls are the very best. White cheese curls are made With Real Cheddar Cheese, our cheese curls are made from the finest ingredients and cooked to perfection!
Features
Try and Compare These Tasty Baked Cheese Curls and Cheese Balls Variety 6- Pack
One Bag Each of Baked Cheddar Curls From These 4 Popular Snack Food Companies.
GUARANTEED FRESH until the printed day. Shipped factory fresh each day!
Pure corn meal and real cheese to make these tasty sensations!
NO PRESERVATIVES, NO TRANS FAT - removed all preservatives and trans fats.
Details
Shipping Information: View shipping rates and policies
UPC: 703694605512
---
Payment & Security
Your payment information is processed securely. We do not store credit card details nor have access to your credit card information.