Description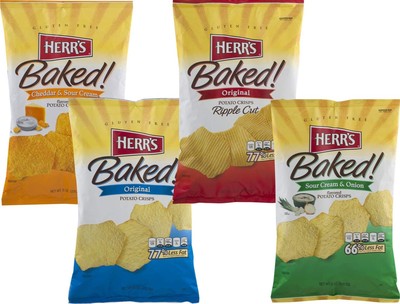 Herr's Baked Potato Crisps- Available in Four Delicious Varieties

---
Product Overview
Flavor: Variety Pack
Size: 4 Bags
Flavor:Variety Pack  |  Size:4 Bags We know you're expecting something special from a company like Herr's with its rich snack-making tradition, and here they are: Herr's Baked Potato Crisps. We set out to deliver a baked crisp with a light clean crunch, and all the oven-fresh flavor we could bake into it. We started with a commitment to quality that our customers have trusted for more than 60 years and ended up with a deliciously satisfying snack that contains 0g of trans fat and 0g of cholesterol.
Features
Herr's Baked Potato Crisps- Available in a Four Bag Variety Pack- All 4 Flavors in One Convenient Order
Light Clean Crunch, and All of the Oven-Fresh Flavor
0g of Trans Fat and 0g of Cholesterol.
Made in the Heart of Pennsylvania Dutch Country
Details
Shipping Information: View shipping rates and policies
UPC
---
Payment & Security
Your payment information is processed securely. We do not store credit card details nor have access to your credit card information.