Description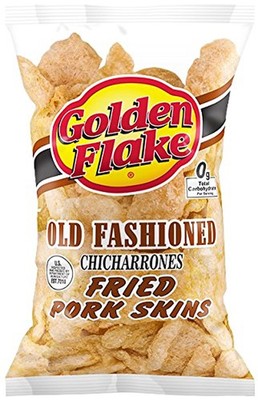 Golden Flake Snack Foods Old Fashioned Pork Rinds 3 oz. Bag (3 Bags)
---
Size:3 Bags Pork skins crafted in the time honored Southern tradition – cooked hot until they pop into crispy nuggets of deliciousness.
Features
Old Fashioned Chicharrones-Available in orders of three or six bags.
We use small bits of pork skin straight from the farm to make our delicious pork skins.
Our delicious pork skins are salted or some are dusted with one of our many unique seasoning blends.
Zero Grams of Total Carbs
Enjoying Golden Flake snacks is as natural to most people as breathing.
Details
Shipping Information: View shipping rates and policies
UPC: 688943362838
---
Payment & Security
Your payment information is processed securely. We do not store credit card details nor have access to your credit card information.