Description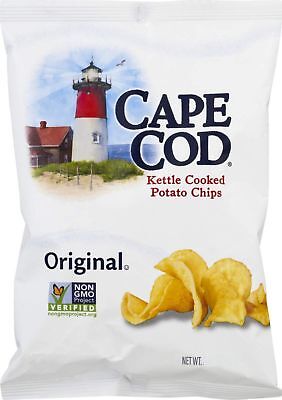 Cape Cod Kettle Cooked Potato Chips- Satisfying, All Natural and Kettle Cooke...
---
Product Overview
Flavor: Original
Size: 3 Bags
Flavor:Original  |  Size:3 Bags Hand-selected potatoes. Vegetable oil. Salt. How do you transform the simplest ingredients into such a satisfying kettle cooked potato chips? For us, it's done one small batch at a time, using select potatoes, sliced thick and cooked at precisely the right temperature in custom kettles to a golden amber hue. No two chips are the same, except that they all share a hearty potato flavor and that wonderful Cape Cod crunch. Thank you for buying Cape Cod Potato Chips. We hope you agree they are ridiculously good!
Features
You Will Receive Cape Cod Potato Chips Cooked Kettle Style
Crunchy. Crispy. Flavorful. Available in Orders of 3, 4 or 6 Bags.
Made One Batch at a Time in Custom Kettles for a Distinctive Crunch and Unique Flavor
Contains no preservatives.Gluten free.
This gluten free product is Non GMO Project Verified.
Details
Shipping Information: View shipping rates and policies
UPC: 703694608865
---
Payment & Security
Your payment information is processed securely. We do not store credit card details nor have access to your credit card information.